PRODUCTS
Guided Surgical Kits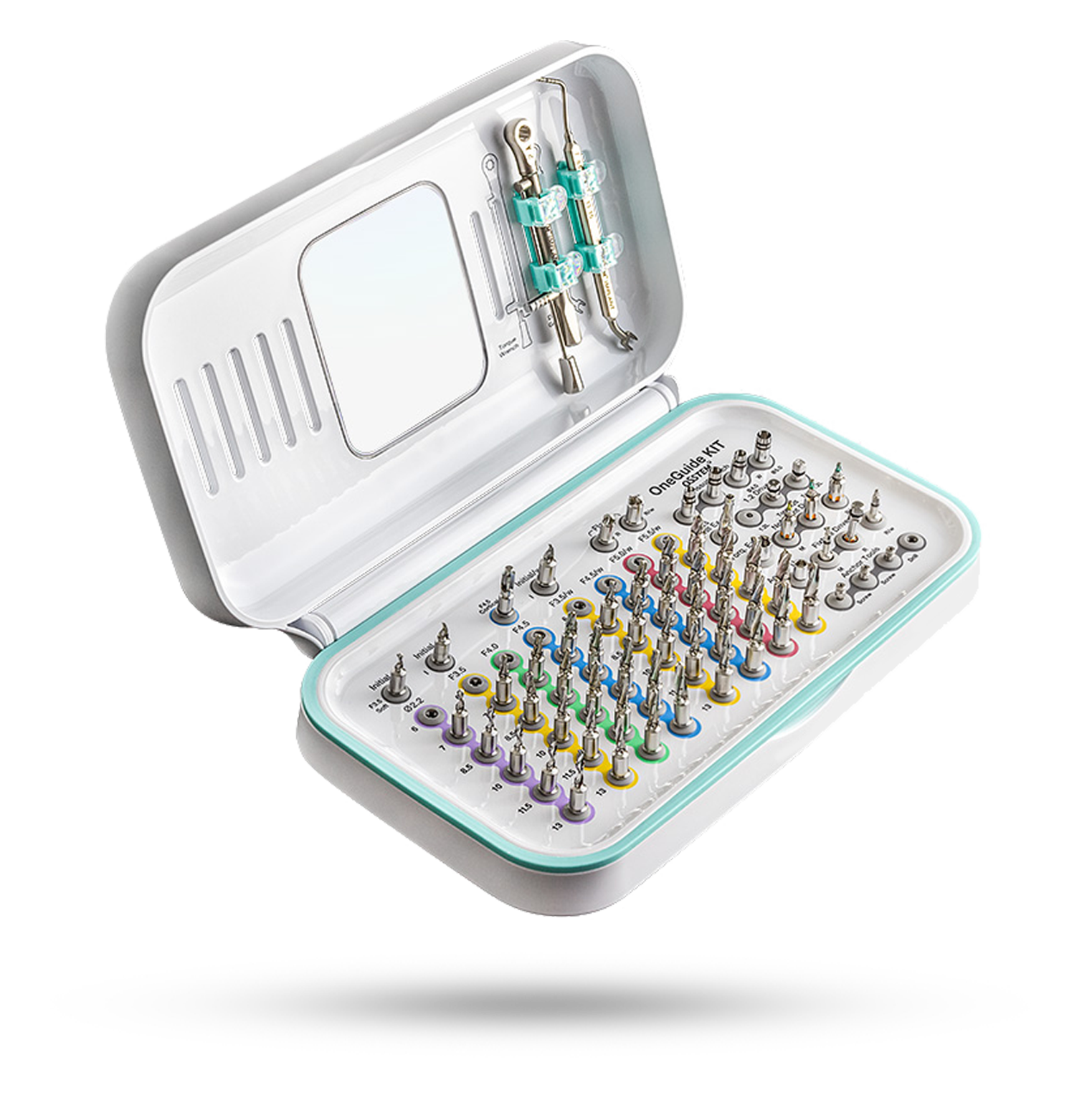 OneGuide Kit
Osstem's OneGuide Kit allows doctors to visualize and plan implants for their patient's dental anatomy with a high level of accuracy letting them predict the amount of room needed for crown or other supra-structure after installing the abutment
Why OneGuide Kit?
Accurate
Precise drilling enabled by computer-aided implant planning, simulation and custom surgical guide template
Quick Surgery
Flapless surgery, no need for incision and suture. Possible to place implants with only 2 - 4 drilling steps.
Allowing you to determine the implant length, position and angulation before performing the sinus lift surgery
Beyond the Limit
Open Guide enables easy entrance of drill into the guide template for Patients with limited intermaxillary space
What makes the OneGuide Kit so special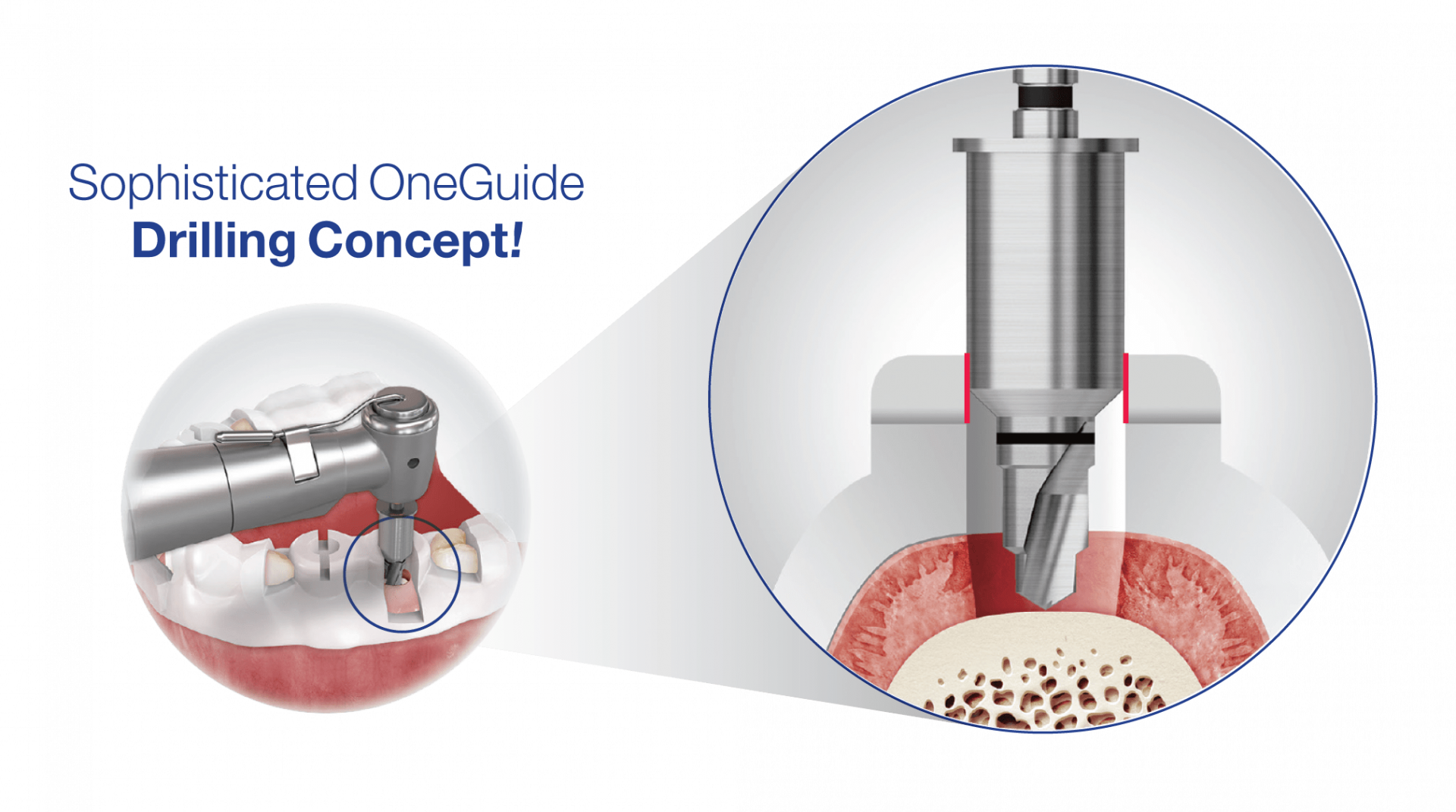 Sophisticated OneGuide Drilling Concept!
Shortened drilling steps to implant placement by adopting Taper 122 concepts
Possible to implant posterier teeth in spite of interocclusal space limitationthrough side open guide
Reduce drill vibration for precise drilling
Faster sugery without worrying about overheating
Simple but Accurate Drilling Sequence
Innovation 1
Shortened drilling steps to implant placement by adopting Taper 122 concepts
Possible to place implant after only 2 - 4 drills depending on bone quality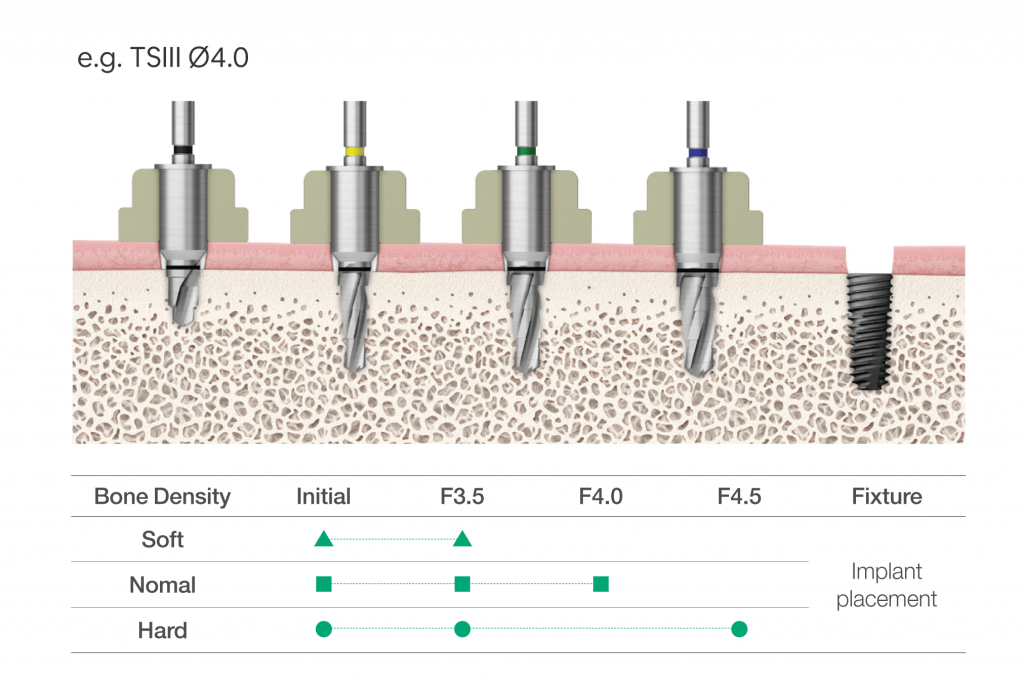 Innovation 2
Possible to implant posterior teeth in spite of interocclusal space limitation through side open guide
As the drill is inserted through side window according to patiens oral status, possible to solve interocclusal space limitation
Required interocclusal space: OneGuide-30mm, Conventional guide-51mm
Availale to choose open or closed sleeve guide if required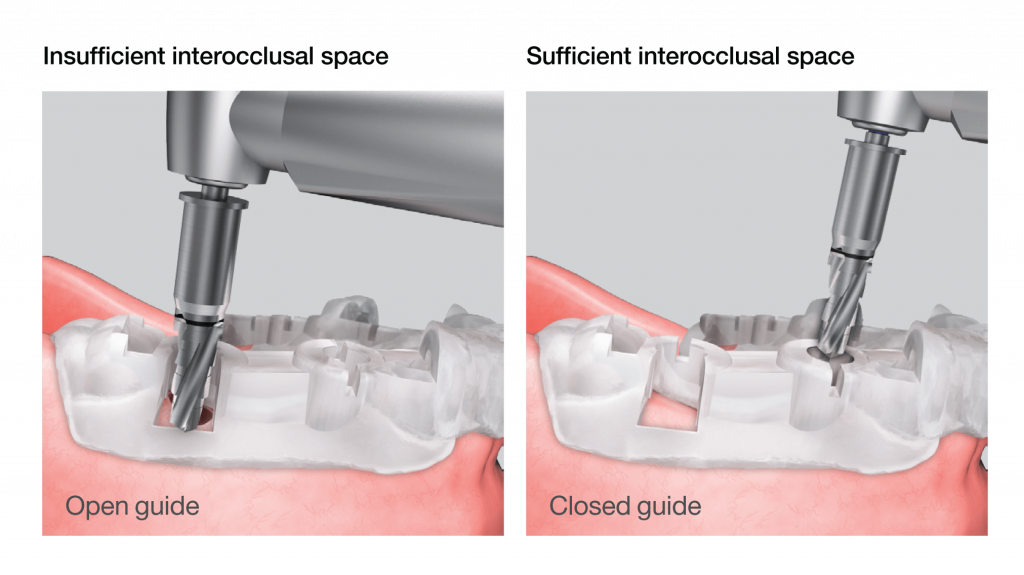 Accurate surgery with stabilized drills
Innovation 3
Reduced drill vibration for precise drilling
INITIAL DRILLING
Precise drilling as the drill can be contacted with guide area within 3mm
SECONDARY DRILLING
Precise drilling with reduced vibration as the drill is in contact with the guide as well as the osteotomy suplying double barrell drill contact anchorage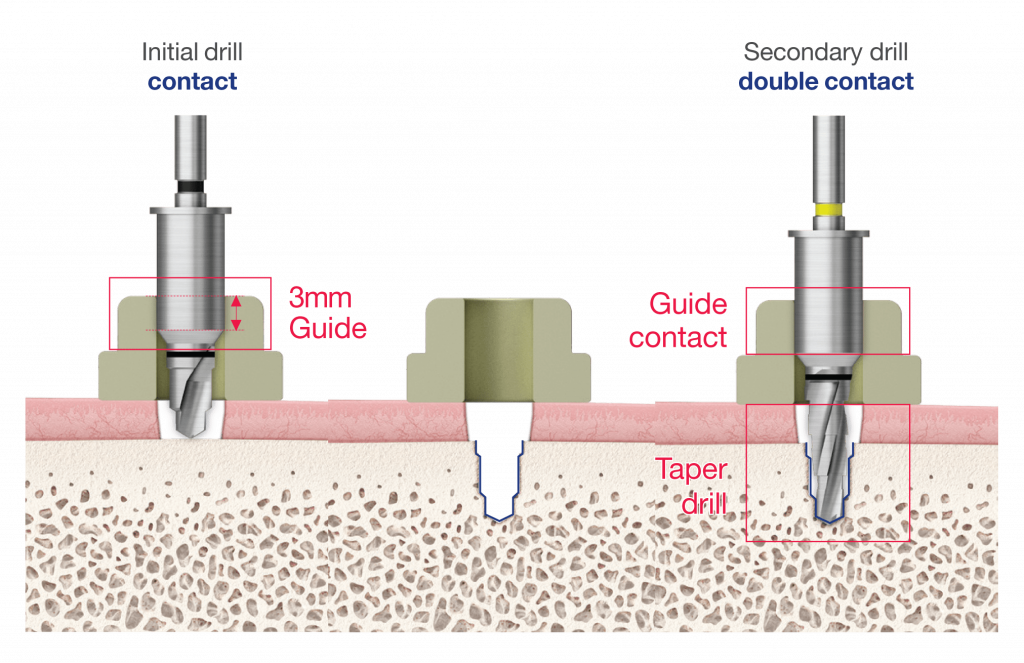 Innovation 4
Faster surgery without worrying about overheating
Unique drill shape with high cutting force (Rec 800 - 1200rpm) for reduced drilling time leading to reduced inner osteotomy heat generation reducing risk of bone nectrosis
Open sleeve side entry guide facilitates easy irrigation during drilling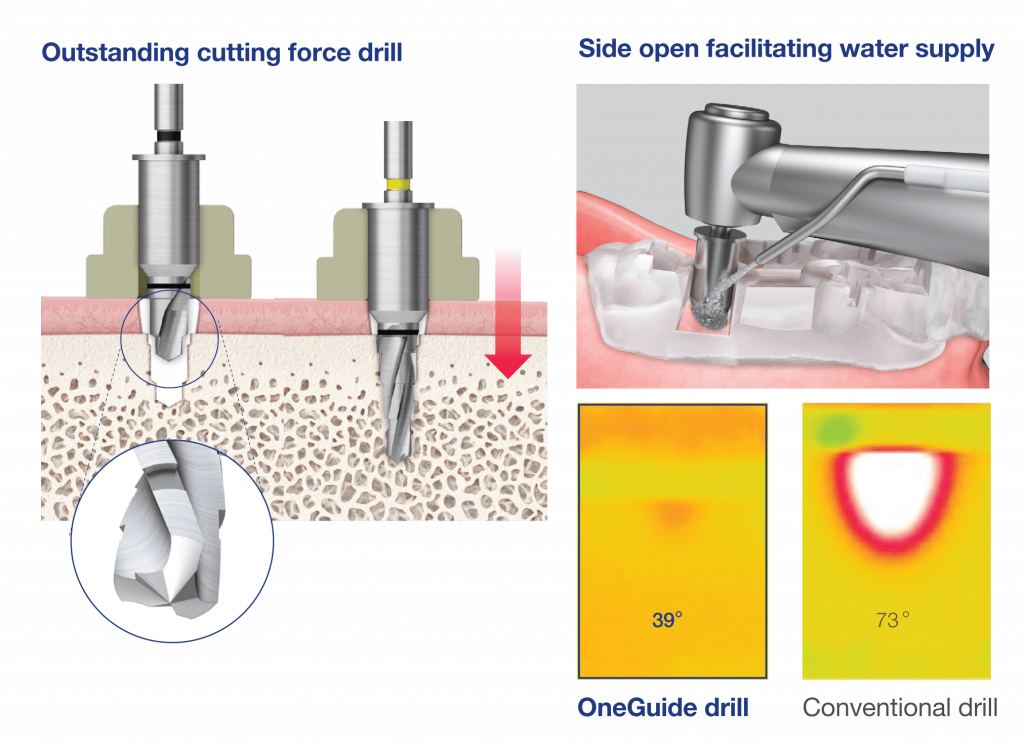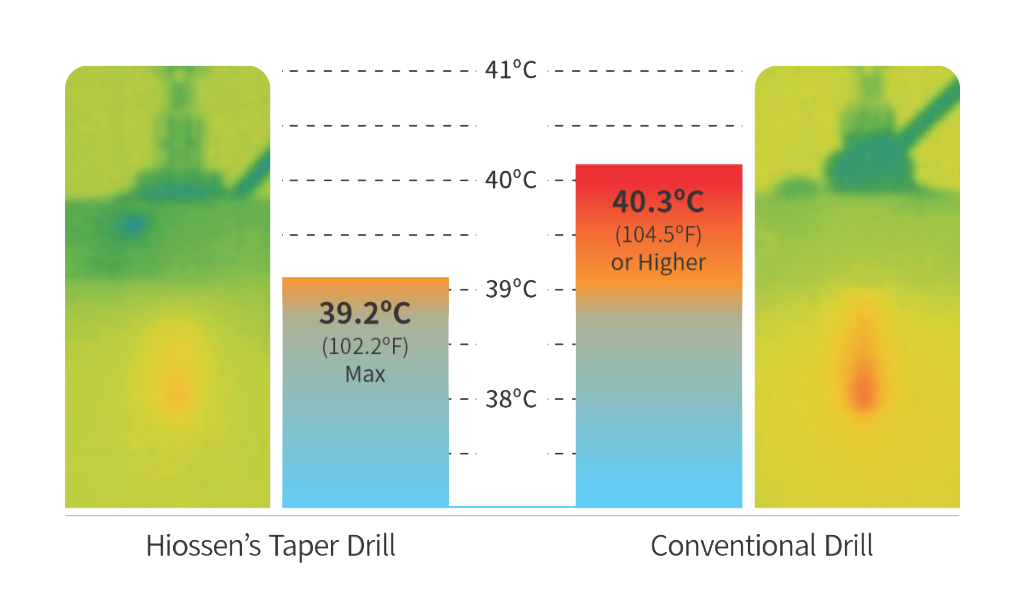 Prevents bone heating
Due to the drill design, the cutting power has improved, which leads to skipping intermediate drilling which prevents bone heating by maintaining low temperature with high-speed
Predictable and Accurate Keyless Guided Surgery
Guided implant surgery allows to visualize the steps of the procedures and create custom drilling templates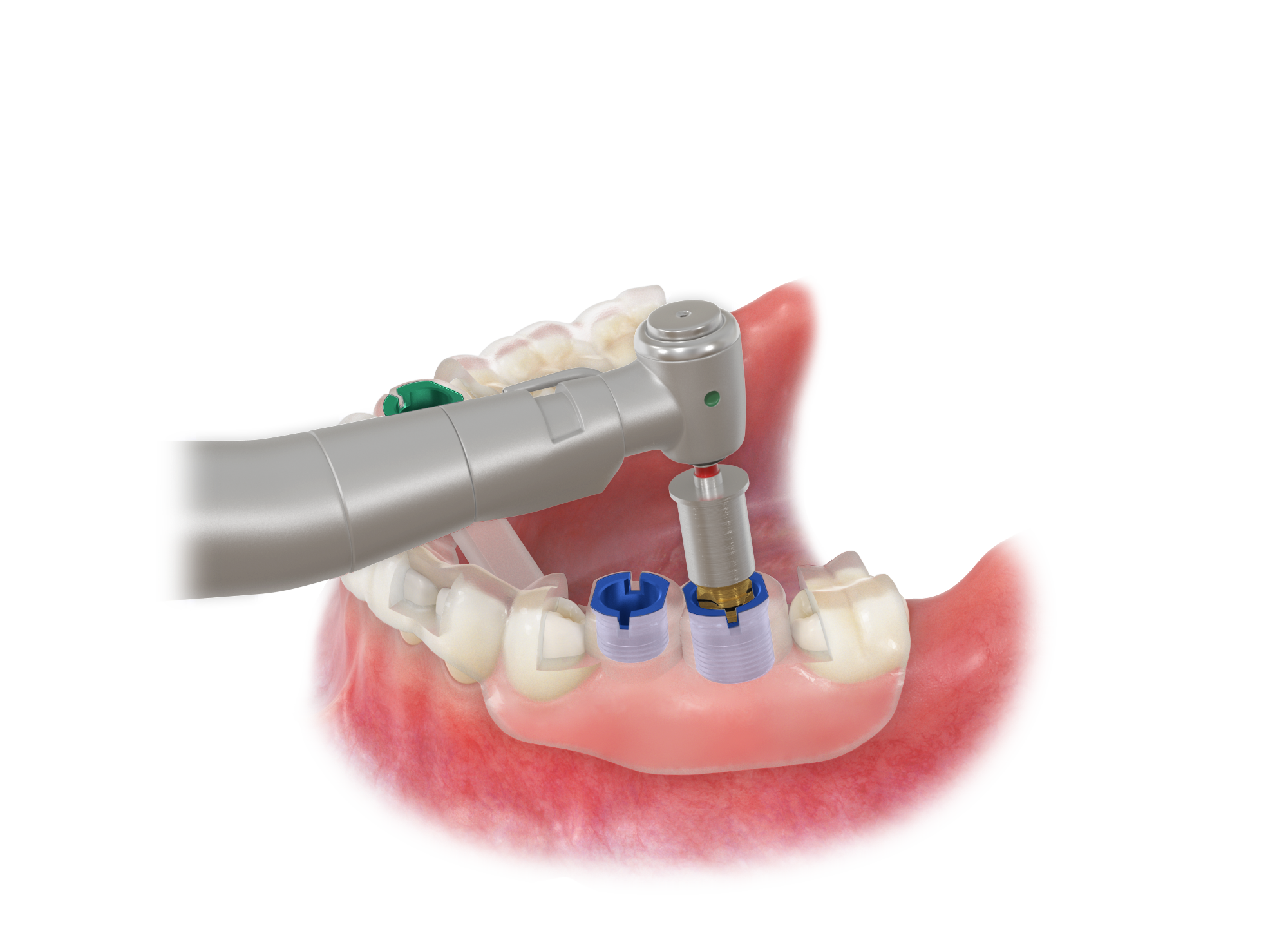 Digital Workflow